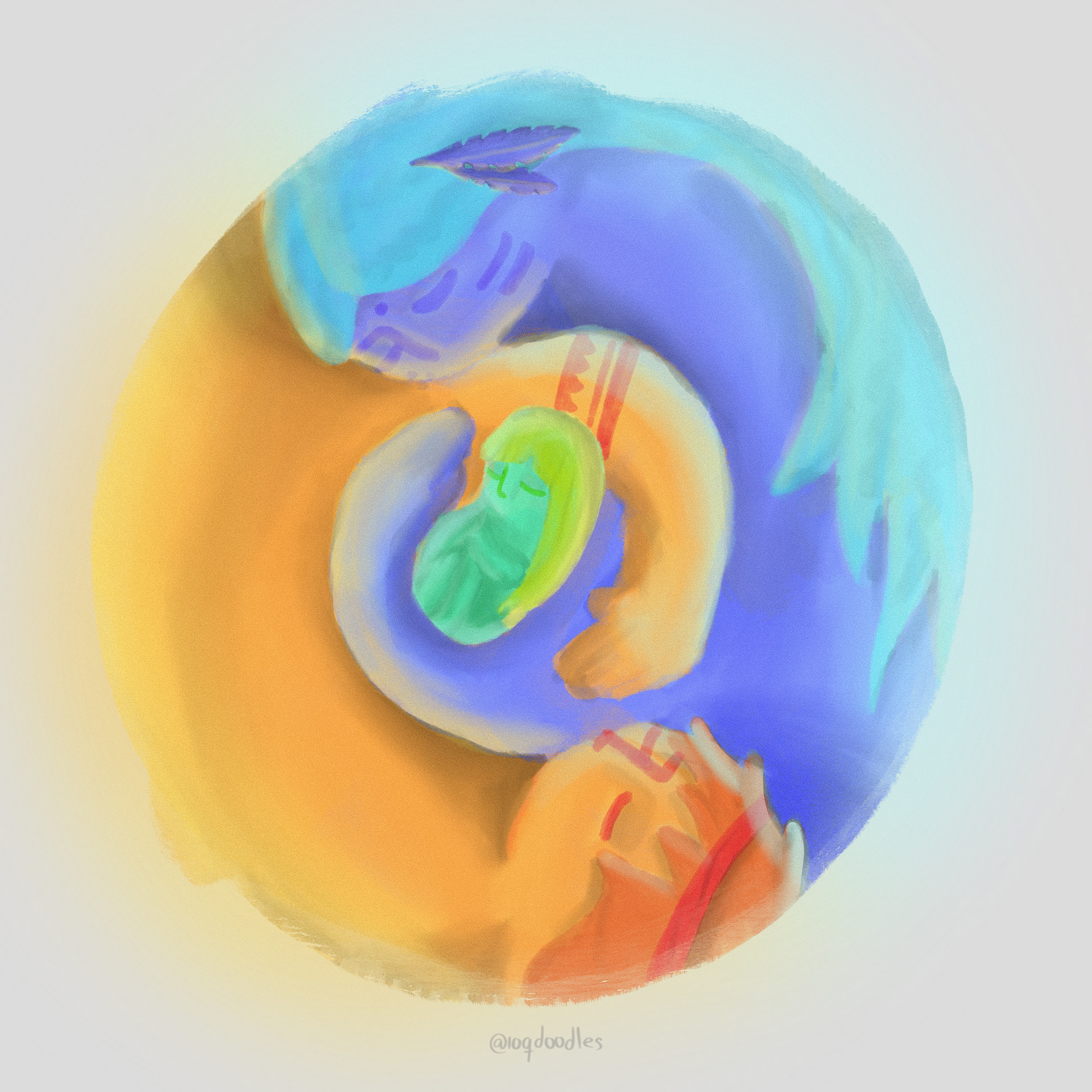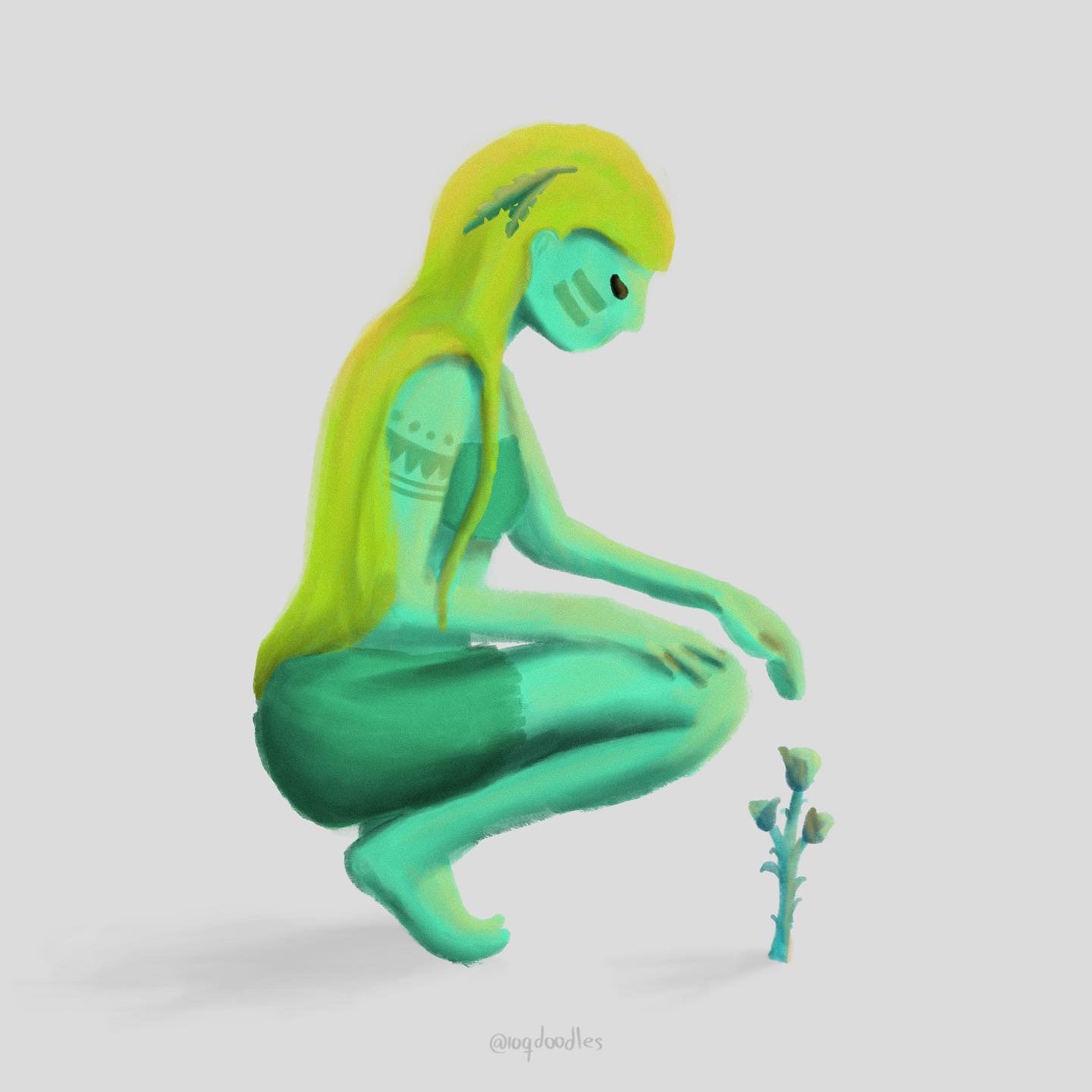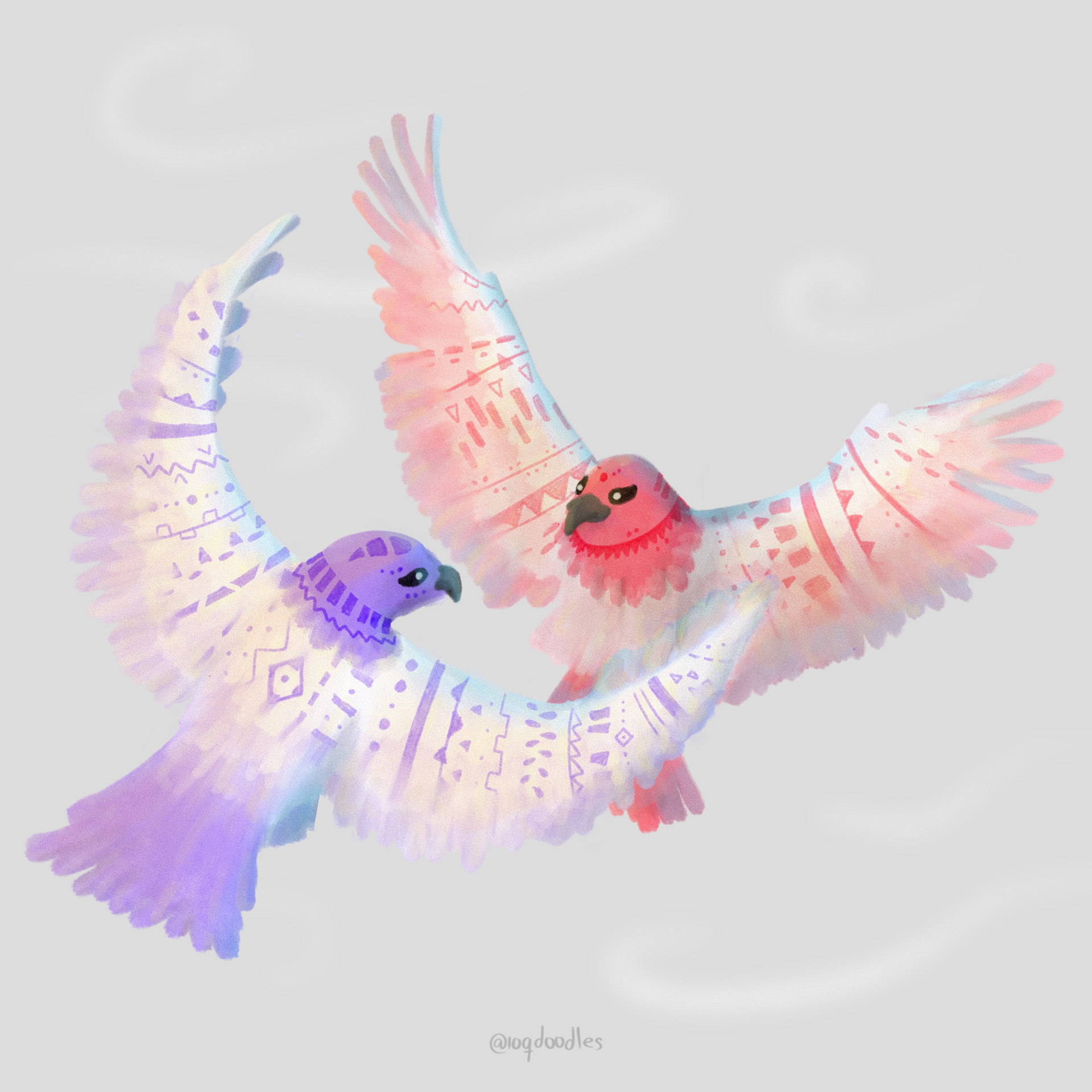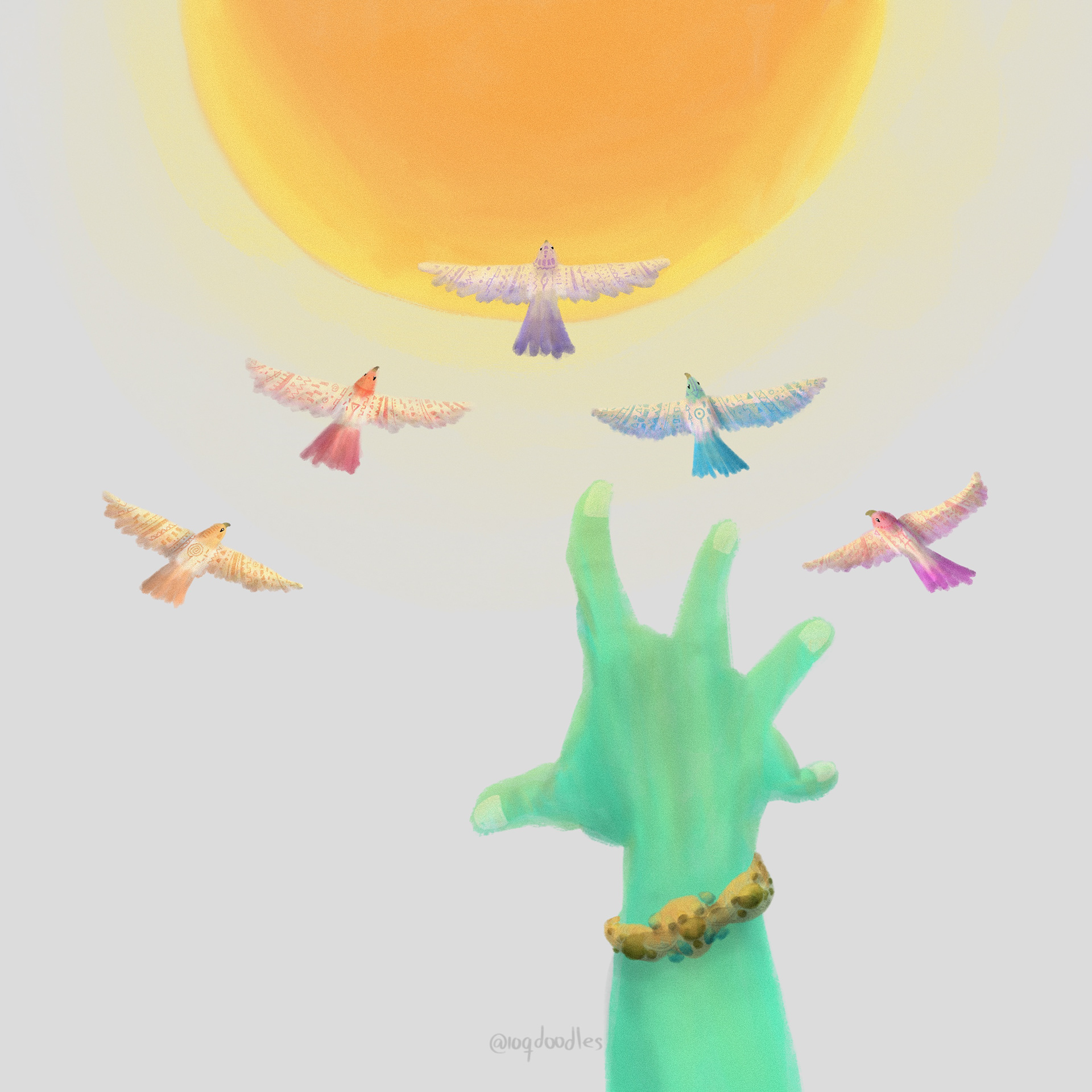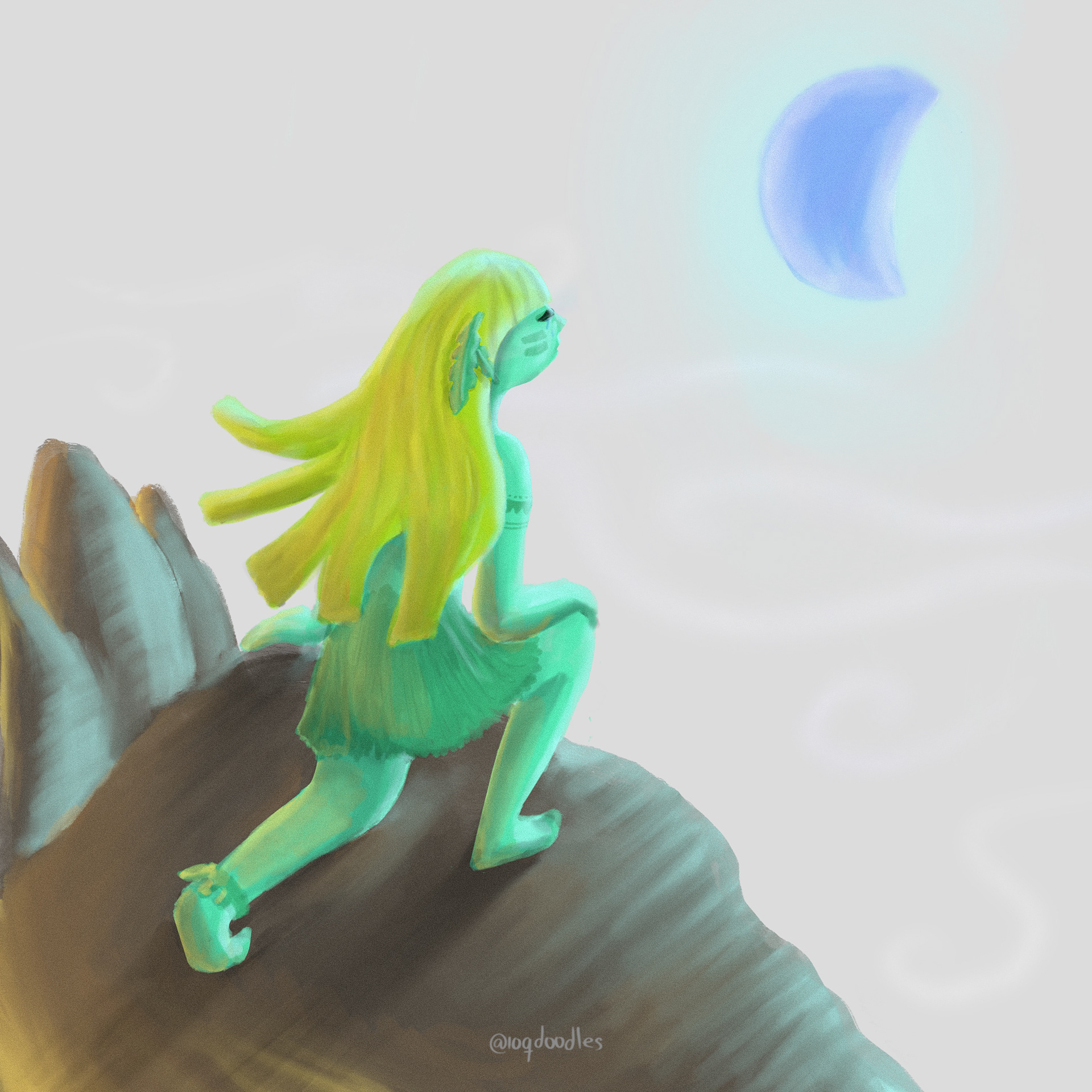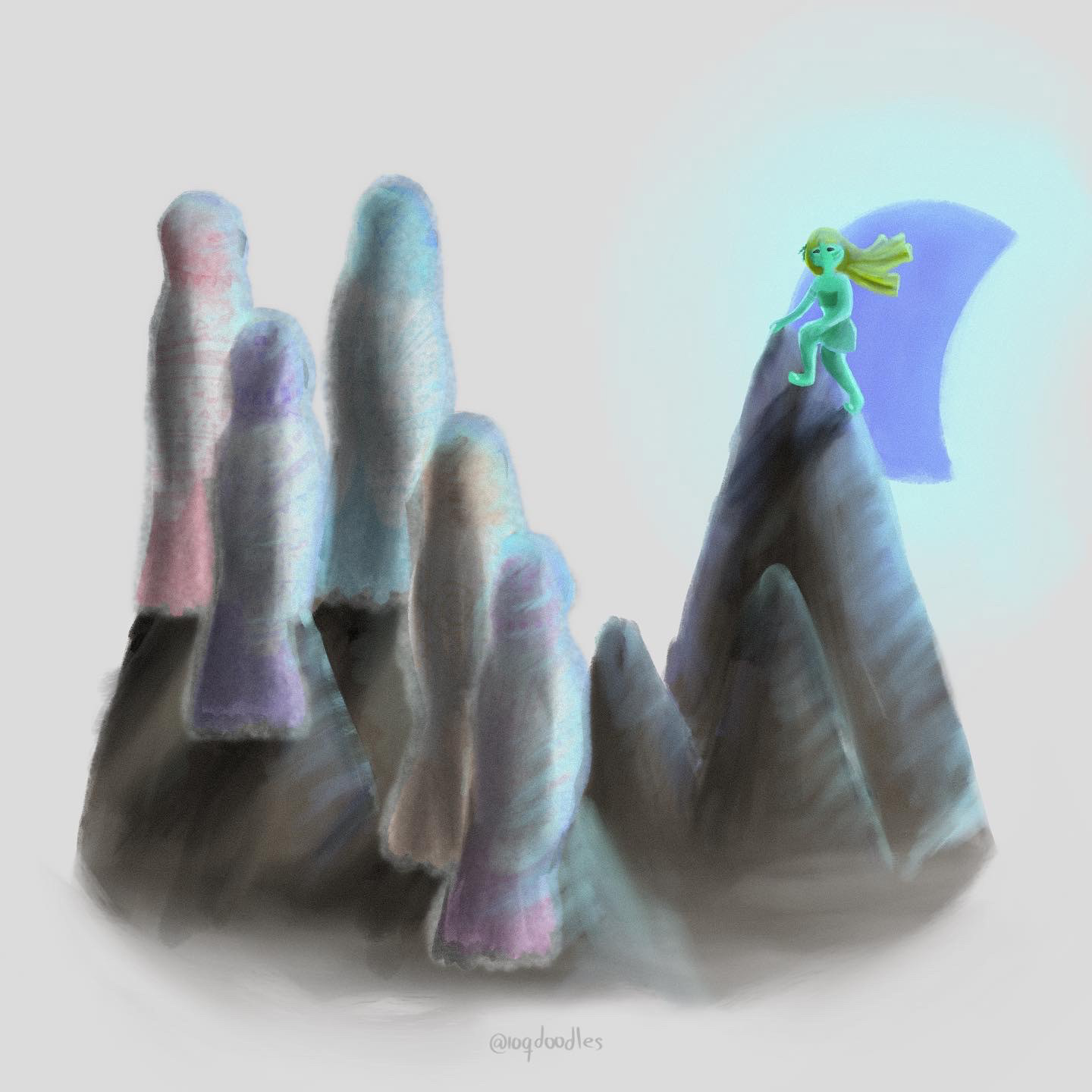 Inspired in the Venezuelan folktale of "Las Cinco Águilas" (The Five Eagles), which tells the story of Caribay, daughter of Zuhé (the sun) and Chía (the moon), and protector of the forest. She was the first woman of the Mirripuyes indigenous tribe in the Cordillera de Los Andes.
One day, Caribay saw five eagles soaring through the sky, and she marveled at the splendid and majestic feathers. Obsessed, Caribay ran and followed the eagles' shadows through the valleys and up the mountains, but they started to fly upwards until their shadows vanished.
Crying, Caribay called upon Zuhé, but the wind carried away her words as the sun King was setting on the horizon. Cold and desperate, she turned to the East and now called upon Chía, the pale moon, and as the wind stopped and there was complete silence, the stars and the silhouette of a half circle appeared.
Caribay was filled with joy as she spotted the eagles once again, flying in a circle around the moon. She started singing with a wild chanting, and the beautiful creatures started descending on the ridges of the mountain range; and there they sat, unmoved but with their wings ready as if they were to fly away at any second.
Eager to adorn her head with those rare and magnificent feathers, Caribay ran towards them. But as she reached them, she was terrified by the cold that ran through her fingers as she touched them: the eagles were frozen, turned to complete ice. Caribay screamed, horrified, and turned to run away, afraid of such an unknown mystery.
The moon darkened and the eagles started to move again. Furious, they started to break away from their petrified state, and as they shook, the mountains were covered with the white feathers, like deep snow.
Fram then on, whenever the eagles awoke angry from their sleep, there would be stormy snowfalls; while Caribay's sorrowful singing could be heard through the whistling wind of the paramo.
Inspirado en la leyenda venezolana "Las Cinco Águilas", que cuenta la historia de Caribay, hija de Zuhé (el sol) y Chía (la luna), y protectora del bosque. Ella fue la primera mujer de la tribu indígena Mirripuyes en la Cordillera de Los Andes.

Un días, Caribay vió a cinco águilas volando en el cielo, y se maravilló ante espléndidas y majestuosas plumas. Obsesionada, Caribay corrió y siguió las sombras de las águilas a través de los valles y las montañas, pero empezaron a volar hacia arriba hasta que sus sombras desaparecieron.
Llorando, Caribay llamó a Zuhé, pero el viento se llevó sus palabras mientras el Rey Sol se ponía en el horizonte. Con frío y desesperada, giró al Este y ahora llamó a Chía, la pálida luna, y cuando el viento se detuvo y hubo completo silencio, las estrellas y la silueta de un medio círculo aparecieron.
Caribay se llenó de alegría cuando pudo ver a las águilas otra vez, volando en un círculo alrededor de la luna. Empezó a cantar un canto salvaje, y las hermosas criaturas empezaron a descender sobre las crestas de la cordillera; y allí se quedaron, inmovibles pero con sus alas listas como si fueran a tomar vuelo en cualquier instante.
Ansiosa por adornar su cabeza con esas raras y magníficas plumas, Caribay corrió hacia ellas. Pero al alcanzarlas, se aterrorizó por el frío que corrió por sus dedos al tocarlas: las águilas estaban congeladas, convertidas en puro hielo. Caribay gritó, horrorizada, y se dió la vuelta para huir, asustada de aquel misterio tan desconocido.
La luna se oscureció y las águilas empezaron a moverse otra vez. Enfurecidas, empezaron a romper  su estado petrificado, y al sacudirse, las montañas se cubrieron de plumas blancas, como una nieve profunda.
Desde ese entonces, cuando las águilas despertaran enfurecidas de su sueño, habrían nevadas tormentosas; mientras que el cantar triste de Caribay se podría escuchar a través del viento silbante del p